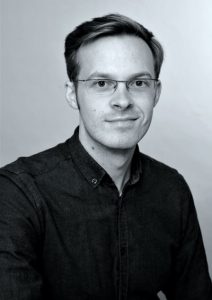 David Kunz, geboren 1991 in Aachen, studierte von 2011 bis 2015 Geschichtswissenschaften im Bachelor of Arts an der Johannes Gutenberg-Universität Mainz sowie von 2015 bis 2018 im Master of Arts an der Universität Trier.
Bereits seit seiner Jugend begeistert er sich für stadtgeschichtliche Themen aus Aachen und Trier, wobei sein Hauptaugenmerk auf der Bau- und Architekturgeschichte vom Mittelalter bis zum Neuen Bauen der 1920er Jahre liegt.
Wohnhaft in der Trierer Altstadt, ist er heute als freiberuflicher Sprach- und Nachhilfelehrer sowie als Stadtführer tätig.
Gegenüber der 2017/18 als Masterarbeit verfassten Form wurde der Text von "Zwischen Tradition und Moderne" vollständig überarbeit, mit neuen Erkenntnissen versehen und um ein Personenverzeichnis ergänzt.